President Wang Chao Delivers a Video Speech at Side Event to the UN General Assembly, held by Nizami Ganjavi International Center
2022-09-23
size: A A A
On September 21, 2022, Mr. Wang Chao, President of CPIFA, attended the Side Event to the UN General Assembly themed "Challenges & Multi-Stakeholder Responses to Peace, Security & Climate Crisis", held by Nizami Ganjavi International Center and delivered a video speech in the session of "Leading Change on a Long and Winding Road of Consecutive Global Crisis".

Wang Chao said, at present, the world is under the combined impact of major changes and a pandemic both unseen in a century, and is challenged by the resurgence of Cold War mentality. Globalization is confronted with headwinds, and crises like climate change keep popping up. The global security environment has been deteriorating. Peace and development are faced with unprecedented severe challenges.
On the one hand, fake multilateralism erodes peace. Some countries use multilateralism as a pretext to pursue block politics and unilateralism. They ideologize multilateralism and impose their own rules on the international community. They cling to the Cold War mentality and are obsessed with unilateralism, zero-sum game and bloc confrontation, presenting challenges to the global governance system and international order. In this regard, the problems triggered by several rounds of NATO's eastward expansion and the resultant lessons are profound. On the other hand, the North-South gap impedes development. Now the world economy faces unprecedented pressure due to the complex interplay of climate change, energy crisis, food security and rising inflation. Inequality continues to grow and the North-South gap risks further widening and even perpetuation. International development cooperation loses momentum. The pandemic has worsened the situation in developing countries. As a result, the global efforts to implement the UN 2030 Agenda for Sustainable Development face more difficulties.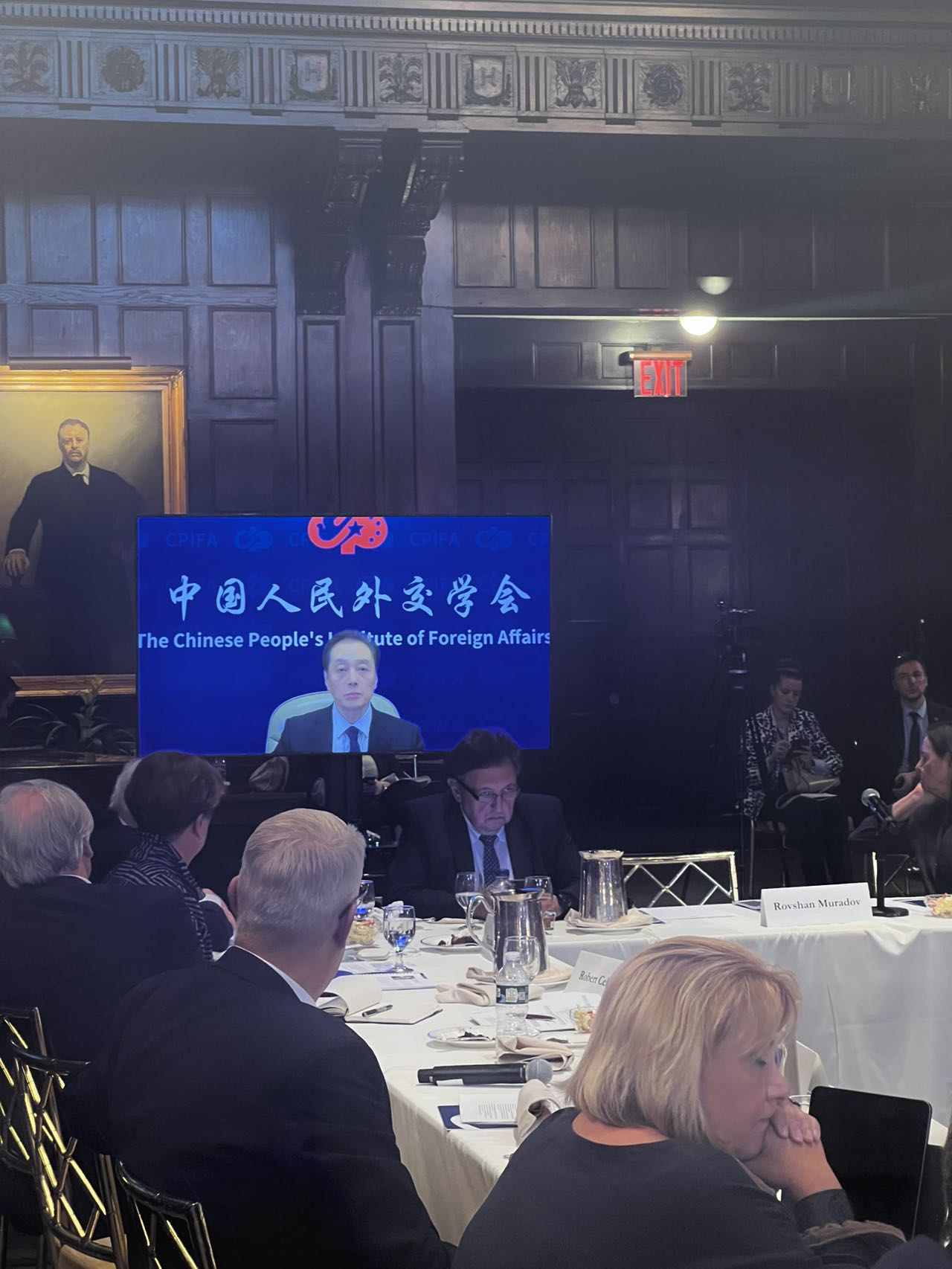 Wang Chao pointed out, to respond to challenges and get out of the crisis as well as bring back peace, international community should cooperate in following aspects:
First, we need to uphold true multilateralism. As President Xi Jinping pointed out,multilateralism is about having international affairs addressed through consultation and the future of the world decided by everyone working together. We should promote extensive consultation and joint contribution to deliver shared benefits, advocate openness and inclusiveness, and oppose closure and exclusion. We need to promote democracy in international relations and insist on equal-footed consultation instead of supremacy over others. As countries are interdependent in today's world, we must go beyond the I-win-you-lose Cold War mentality and replace confrontation, coercion, alliance and zero-sum with dialogue, consultation, partnership and win-win results.
Second, we need to advocate a new vision of security. China has always adhered to the vision of common, comprehensive, cooperative and sustainable security. President Xi Jinping put forward the Global Security Initiative, which points out the direction to and China's vision for common security in view of the current predicaments in international security. The  Global Security Initiative is open to all. We are willing to work with the international community and implement the Global Security Initiative with practical actions through sincere and pragmatic dialogue and cooperation to build together a balanced, effective and sustainable international security architecture, so as to make our due contributions to save succeeding generations from the scourge of war.
Third, we need to pursue win-win cooperation. Development is an eternal theme of humanity and a major yardstick of the progress of times. To bring development back to the center of the international agenda is what we should pursue. China places high importance on common development. President Xi Jinping, bearing in mind the well-being of the entire humanity, proposed the Global Development Initiative. Aiming at building a global community of development, the Global Development Initiative gives priority to development, puts people at the center, and seeks to expedite the implementation of the 2030 Agenda. It is a public good available to the whole world. In June this year, President Xi Jinping announced a series of practical measures to further support the China-UN Peace and Development Fund, sharing unreservedly with the world China's philosophies, initiatives and wisdom.
Fourth, we need to improve the global governance. Promoting the reform of the global governance system has become the aspiration of the people and the trend of the world. But we have to note that it is also full of challenges. The global governance system should be built and improved by all, rather than dominated by one country or a group of countries. No country has the right to exclude other countries for whatever reason. We should firmly safeguard the international system with the United Nations at its core and the international order underpinned by international law, and ensure that international affairs are participated by all, international rules formulated by all, and development outcomes shared by all. China stands ready to work with the international community to build a more fair, equitable, inclusive global governance system that benefits all.
Fifth, we should jointly tackle climate change. Today, promoting green and low-carbon transformation and achieving sustainable development has become the overwhelming consensus of the international community. Under the guidance of President Xi Jinping's Thought on Ecological Civilization, China is committed to real actions on global climate governance. We have made a solemn pledge to strive to peak CO2 emissions before 2030 and achieve carbon neutrality before 2060, to build a modern country where man and nature can live in harmony, and to make joint efforts to build a community of all life on Earth and a clean and beautiful world for us all. China will, as always, actively participate in international and multilateral cooperation on climate change and make its own contributions to addressing the global challenge of climate change.
Wang Chao emphasized, peace,like sunlight and air, is essential for the survival and development of mankind. Universal security and common prosperity is the eager aspiration of people all over the world. President Xi Jinping stressed that only when we all cherish and uphold peace and never forget the painful lessons of war can there be hope of peace. China will continue to uphold the idea of a community of shared future for mankind, actively implement Global Development Initiative and Global Security Initiative proposed by President Xi Jinping, open up a broad path toward lasting peace and universal security, and forge a strong synergy to build a community with a shared future for mankind.