The 2nd China-CELAC High-Level Academic Forum & 6th China-Latin America and the Caribbean Think Tank Forum Successfully Held
2021-10-19
size: A A A
OnOctober 12th and 13th, the 2nd China-CELAC High-Level Academic Forum and the 6th China-Latin America and the Caribbean Think Tank Forum was held online and offline. Wang Chao, President of the Chinese People's Institute of Foreign Affairs (CPIFA), addressed the closing ceremony and read out the summary report of the forum. CPIFA Vice President Shi Ling attended the opening and closing ceremonies.
In his remarks, President Wang Chao pointed out that China and Latin America have joined hands in fighting the epidemic and economic recovery since the Covid-19 pandemic started, translating the profound connotation of a China-Latin America community of shared future into concrete actions. Bearing in mind the importance of development, China is willing to share with the world new development opportunities with its own new development agenda. CPIFA is willing to continue to work with think tanks and research institutions from both China and Latin America to play an active role infurthering China-Latin America relations.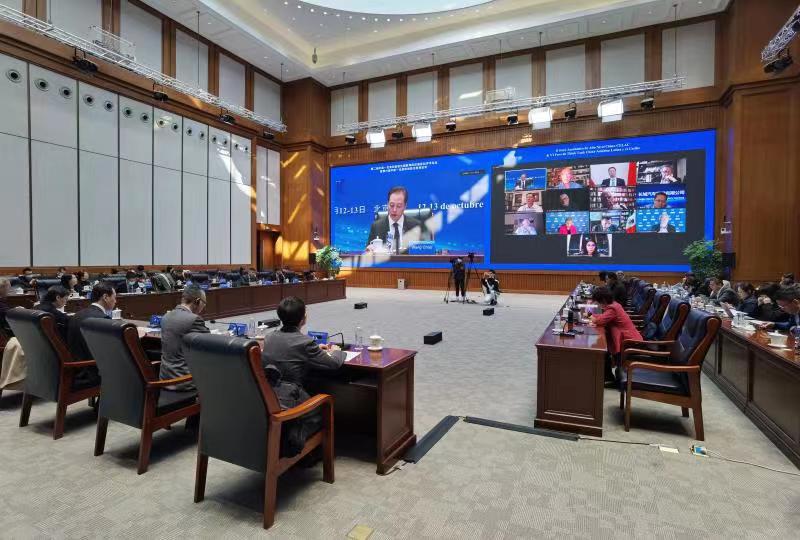 The forum was co-hosted by CPIFA, the Institute of Latin American Studies and the Bureau of International Cooperation of the Chinese Academy of Social Sciences (CASS), the Chinese Institute of International Studies (CIIS), the China Foundation for International Studies (CFIS) and the United Nations Economic Commission for Latin America (ECLA). Eduardo Frei, former President of Chile, Bruce Golding, former Prime Minister of Jamaica and over 30 dignitaries and renowned scholars from China and Latin American and Caribbean countries attended the forum.
The forum is one of the series of activities of the China-CELAC Forum 2021, themed "China-Latin America Cooperation: Meeting Challenges and Creating the Future Together". The four discussion topics are, "Mutual Learning of China-LAC Development", "China-LAC Cooperation on the Belt and Road Initiative and Health Silk Road under the Global Challenges", "Emerging Areas of Cooperation between China and LAC: Digital Economy and the Energy Transition" and "Future-oriented Sino-Latin America Cooperation".